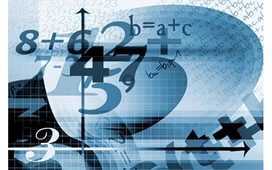 Partner university: Rouen University
Length of study: 2 years
Mode of study: full-time
Languages of instruction: English (Russian, French)
Concept
The Programme is carried out as follows: the 1st and 2nd semesters – a period of 18 weeks each – are taught at the National Research Tomsk State University as part of the Master's programme in Mathematics. It includes general vocational and specialty-oriented disciplines such as industrial mathematics, optimization methods, and supercomputer technologies. Compulsory for double-degree students is the in-depth study of English. The 3rd and 4th semesters are taught according to the schedule of Rouen University in Fundamental and Applied Mathematics, including specialty-oriented disciplines, foreign languages, and work placement. During the 2nd year of study, parallel with learning, there is work on the master dissertation with its consequent defense. The preparation and defense of the master dissertation and graduation exams take place either at Tomsk State University or at Rouen University. Educational activities are carried out according to an individual plan set up with the research adviser.
Objectives
The Programme is designed to train highly-qualified specialists capable of conducting project-based scientific, information, and research activities for Russian and international commercial organizations and scientific and research centres.
Job prospects
Graduates are prepared for work in the high-tech and industrial companies, e.g. Alcatel, IFP Energies Nouvelles, Continental Automotive France, SNCF, Michelin, Le groupe Renault, Le groupe EDF, SIAM, and TomskNIPIneft.
Enrolment
General enrolment rules of TSU:
Applying for a Master's programme; 
Applying for a double-degree Master's programme. 
Prerequisites: knowledge of English (reading and speaking skills); Bachelor's or Specialist's degree in one of mathematics-related or engineering specialties.
An applicant is also required to submit: 
► Certificate of higher education along with all supplements;
► Recommendation letters from the last place of study / employment;
► Motivation letter.
Coordinators
TSU - Associate Professor Evgeniy Pchelintsev, PhD,  tel. +7 (3822) 529-740, e-mail: evgen-pch@yandex.ru
Rouen University – Philippe Jouan, HDR, MCF, tel. + 33 2 32 95 52 77, e-mail: philippe.jouan@univ-rouen.fr